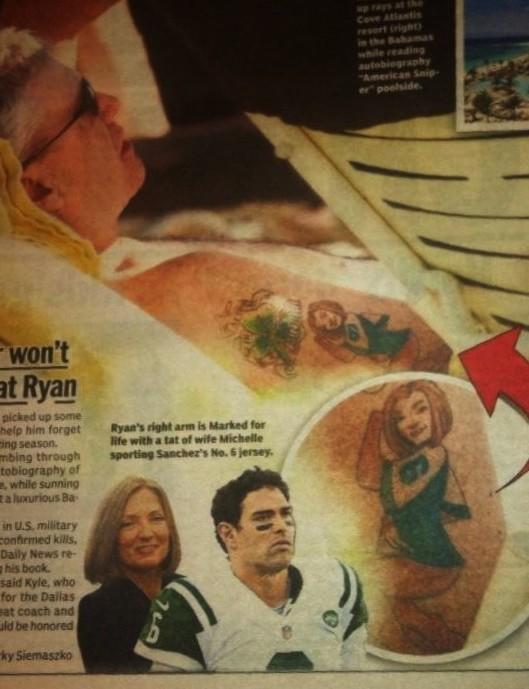 If you heard this story, looked at the photo and thought to yourself Rex Ryan is dumb ass shit, then you're dumb as shit. Its obvious, even to the blind, that this is fake. Faker than a teenage girl's personality. However, lets say for shits and giggles this is true. Just throw it out there. If that were the case, then this would be the greatest tattoo of all-time. Rex just laughing and saying "fuck the world" all with a little ink. I mean, it doesn't get any better than a pinup of his wife rocking a Sanchez jersey while Tebowing. A part of me hopes this is true. No way Belidouche or that scumbag Norv Turner, or that cock sucker Mike Shannahan would do this. They're too stuck up. Feel like they're on top of the world. Mostly why I hate all three.
So yeah, I'm a Giants fan, I should be ripping Rex and talking about how much of a sideshow the Jets continue to be, but that'd be too easy. Instead, I'm going to head out to my tattooer and get a a portrait of Norv Turner rocking a Belidouche hoodie, surrounded by all the running backs Mike Shannahan has "Shannhaned."
Rex Ryan winning in the postseason even when he's not in the postseason.